As an Amazon Associate I may earn from qualifying purchases, at no additional cost to you.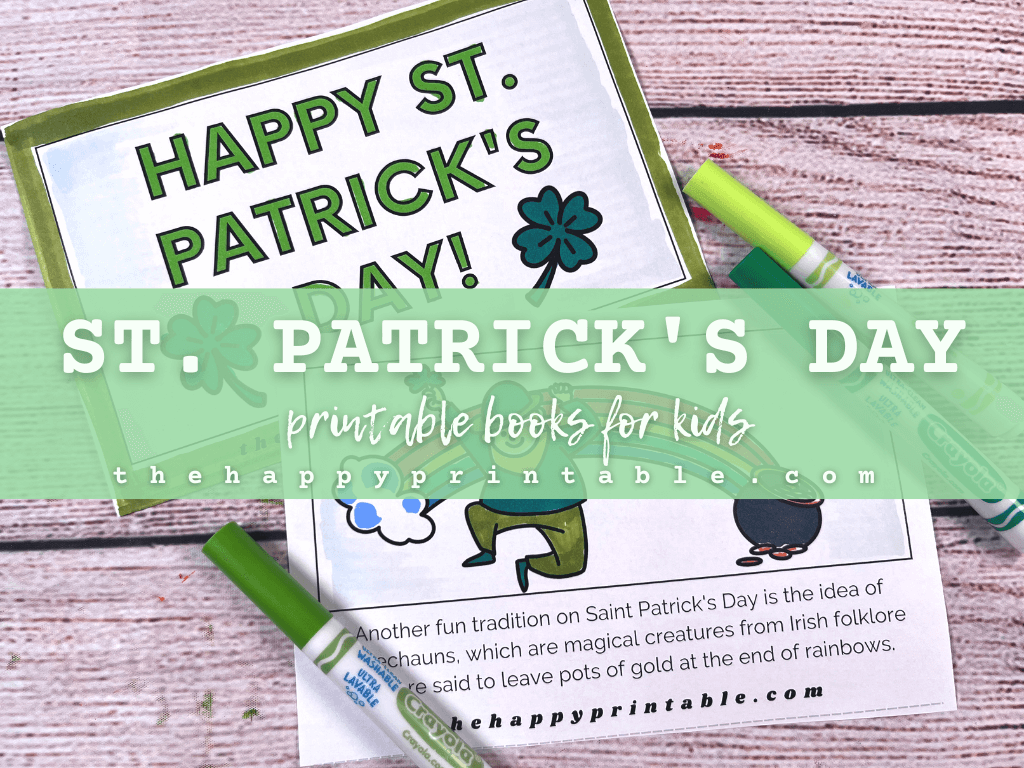 Saint Patrick's Day is a fun and colorful holiday that celebrates Irish culture and traditions. Use this printable St. Patrick's Day book for kids to find a little more about this unique holiday!
How to explain the legend of St. Patrick's Day to kids…
I grew up in a Midwestern town in which St. Patrick's Day was celebrated only by wearing green to avoid being pinched or watching a parade on tv.
There's so much more to this rich holiday. Here I'll share a few key points that will give you and your students a bit of context for what St. Patrick's Day is and why we celebrate it!
Saint Patrick's Day is a holiday that people celebrate on March 17th every year. It's named after Saint Patrick, who was a man who lived a long time ago in Ireland.
Saint Patrick is famous for helping to spread Christianity throughout Ireland.
On Saint Patrick's Day, people often wear green clothes and accessories because green is the color associated with Ireland and Saint Patrick.
Some people might even attend parades or other festive events to celebrate the holiday.
Another fun tradition on Saint Patrick's Day is the idea of leprechauns, which are magical creatures from Irish folklore that are said to leave pots of gold at the end of rainbows.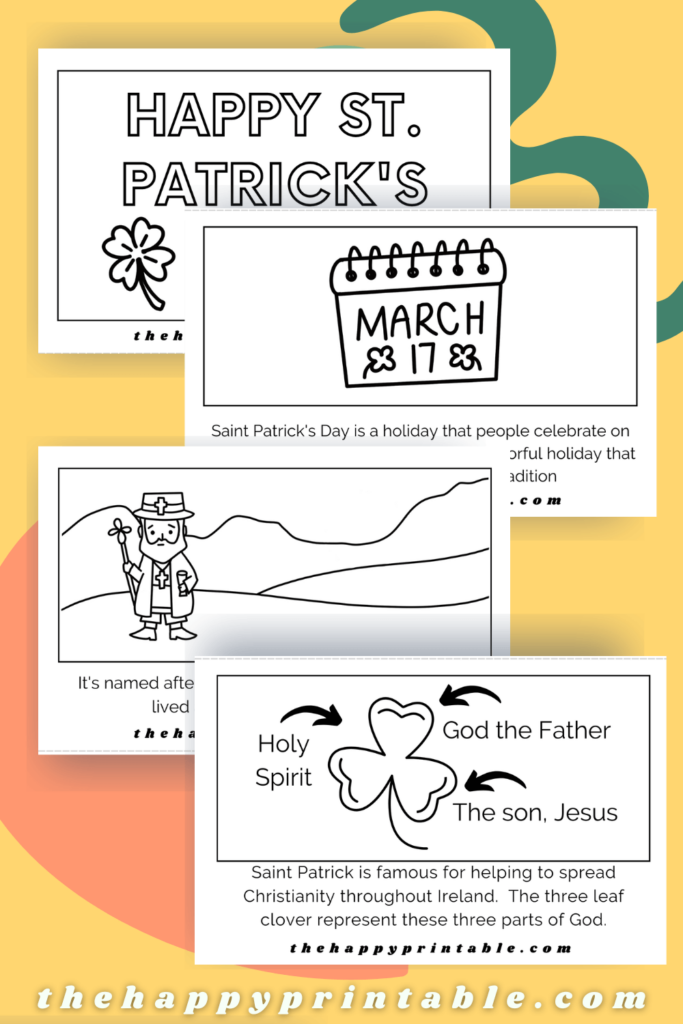 A three-leaf clover is a special plant that is often associated with Saint Patrick's Day and Christianity. Saint Patrick used this plant, which is also called a shamrock, to help explain the concept of the Holy Trinity to people in Ireland.
The Holy Trinity is the idea that there are three parts to God: the Father, the Son (Jesus), and the Holy Spirit. Saint Patrick used the three leaves of the shamrock to represent these three parts of God, and it became a symbol of Christianity in Ireland.
On Saint Patrick's Day, people often wear or display three-leaf clovers or shamrocks to celebrate their faith and honor Saint Patrick's legacy.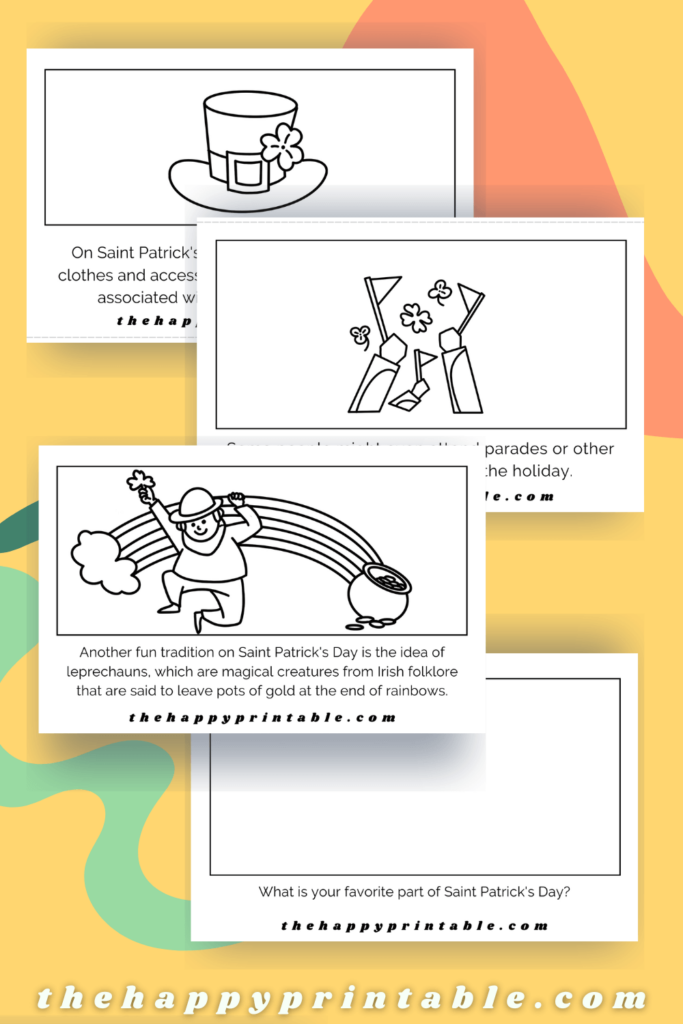 Get the printable St. Patrick's Day book here…..
I made this book for you to use in your home or classroom and it's free when you're a Happy Printable subscriber.
It's easy. Use the form below to become a subscriber. Then check your email to confirm your subscription. As soon as you confirm you'll receive your St. Patrick's Day printables immediaitely.
As a subscriber you'll also begin receiving my weekly digital newsletter. It will bring you my newest and seasonal free resources! No spam, just me!
Happy Printable subscribers, read this….
If you're already a Happy Printable subscriber you can follow the same process, same form as above to get the printable St. Patrick's Day book.
No matter how many forms you fill out, or how many downloads you access, you will not begin receiving multiple emails from me. I promise!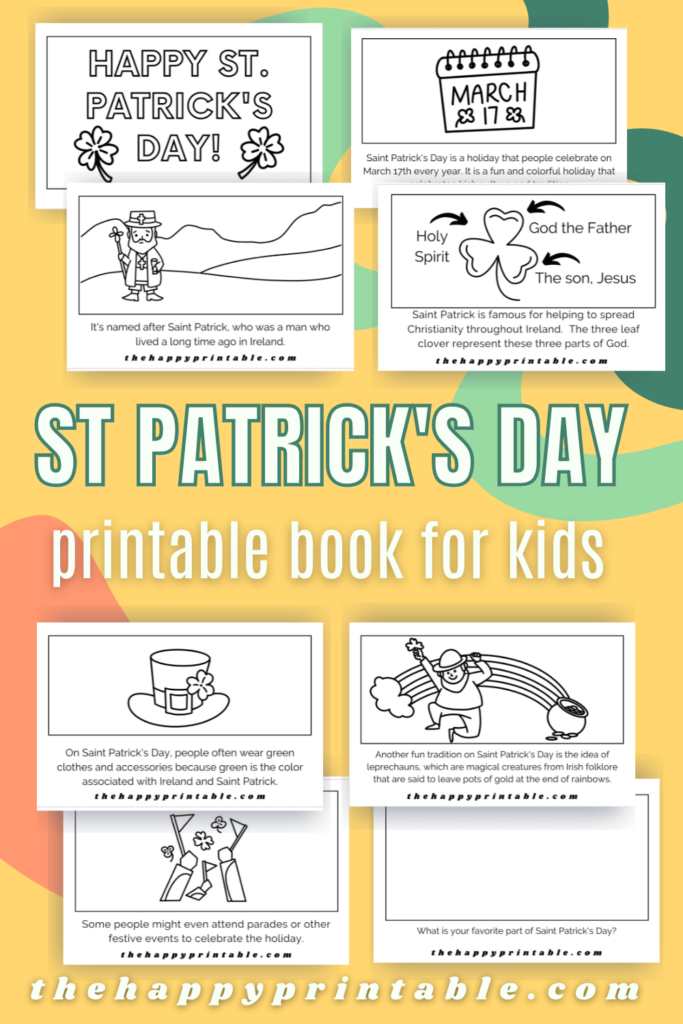 Did you love using this printable St. Patrick's Day book with your kids? Then share this post with someone else!
Every time you hit share it helps me to bring you more creative resources to use with your kids- for free!