As an Amazon Associate I may earn from qualifying purchases, at no additional cost to you.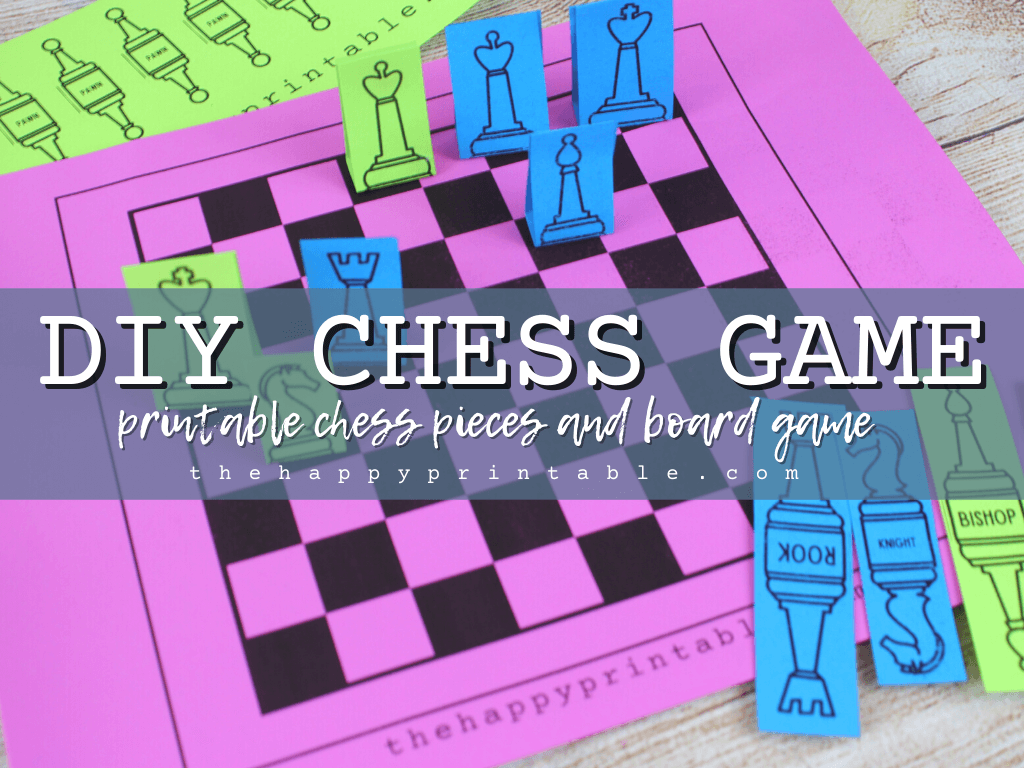 This chess board printable comes with printable chess pieces that stand up and a quick start guide to help teach your kids the names of the chess pieces and their moves.
Printable chess board….
This chess board printable prints on standard 8.5 x 11 paper. The file has a transparent background. That means that if you can print on colored paper, like the Astrobrights collection in the pics, and you'll have a full color DIY chess set ready to go!
If you want your chess board printable to last indefinitely consider laminating it in a laminating pouch like this one!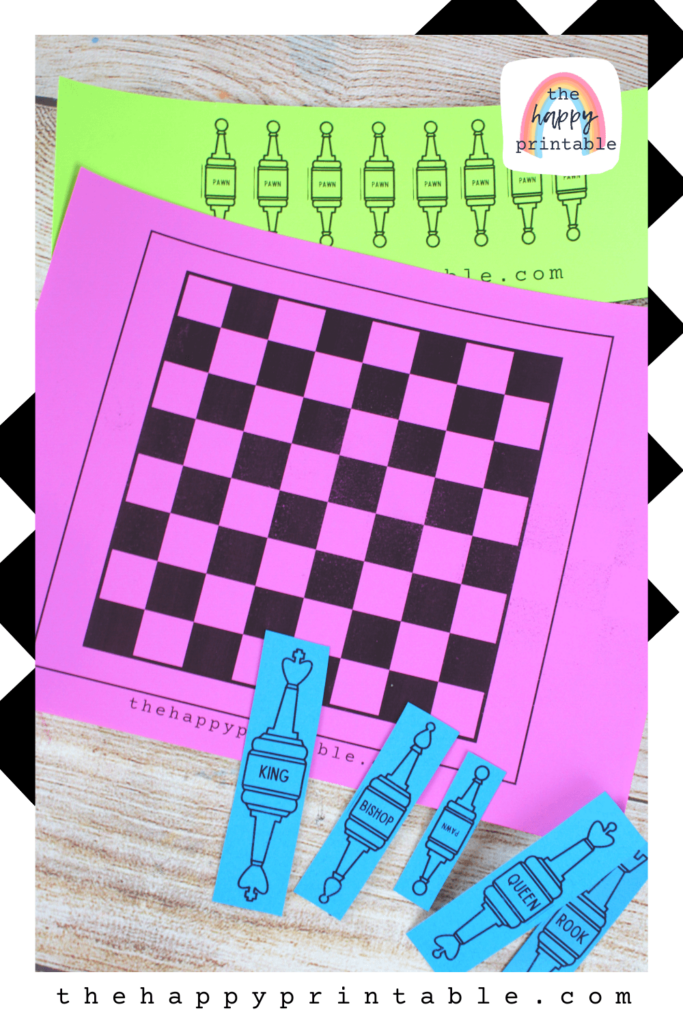 Printable chess pieces…
Each set of 16 chess pieces prints on a single piece of 8.5 x 11 paper. If I were you I'd print on card stock rather than copy weight paper. It'll make your pieces much sturdier!
Because each set of chess pieces prints on a separate piece of paper it's easy to print each set in their own unique color. No colored paper? No problem. Print on white paper and let your gamers color them themselves!
Cut them out, I left a bit of extra paper on mine. Fold the tops of each printable chess piece up to meet in the center and attach with a dot of glue.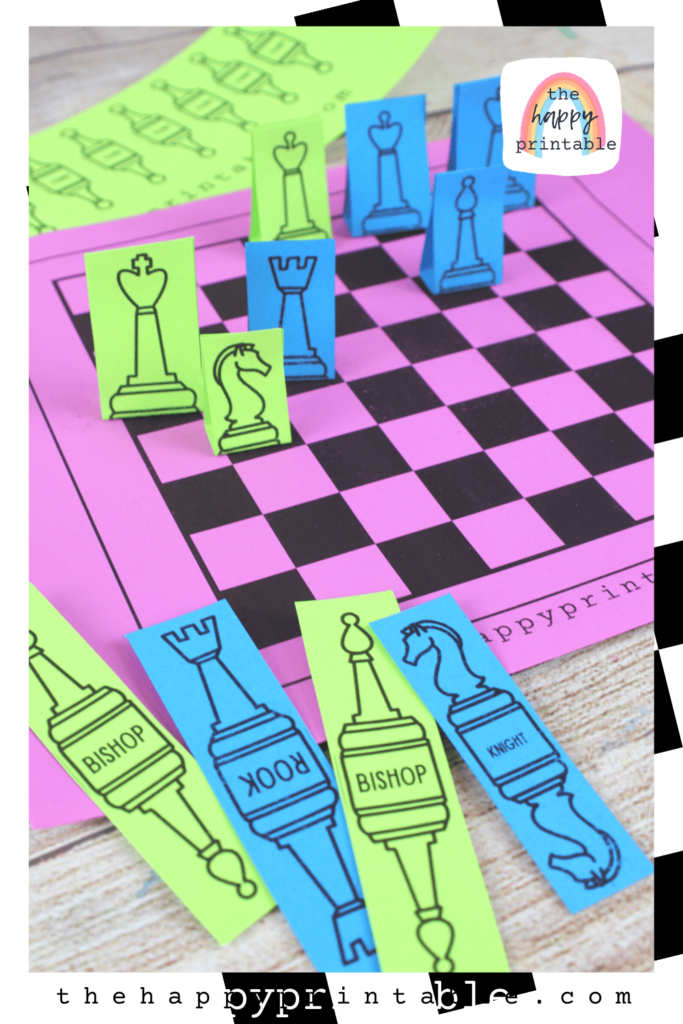 What are the chess pieces names….
Each printable chess piece has it's name written on the bottom for easy reference.
When you download the chess board printable you'll also get this quick start guide to help your students learn the names of the chess pieces. You'll see the chess piece illustrated, see the name of the chess piece, and notice a summary of the moves of that chess piece.
While this one page guide to the chess pieces isn't exhaustive by any means it is a handy reference for beginner chess players!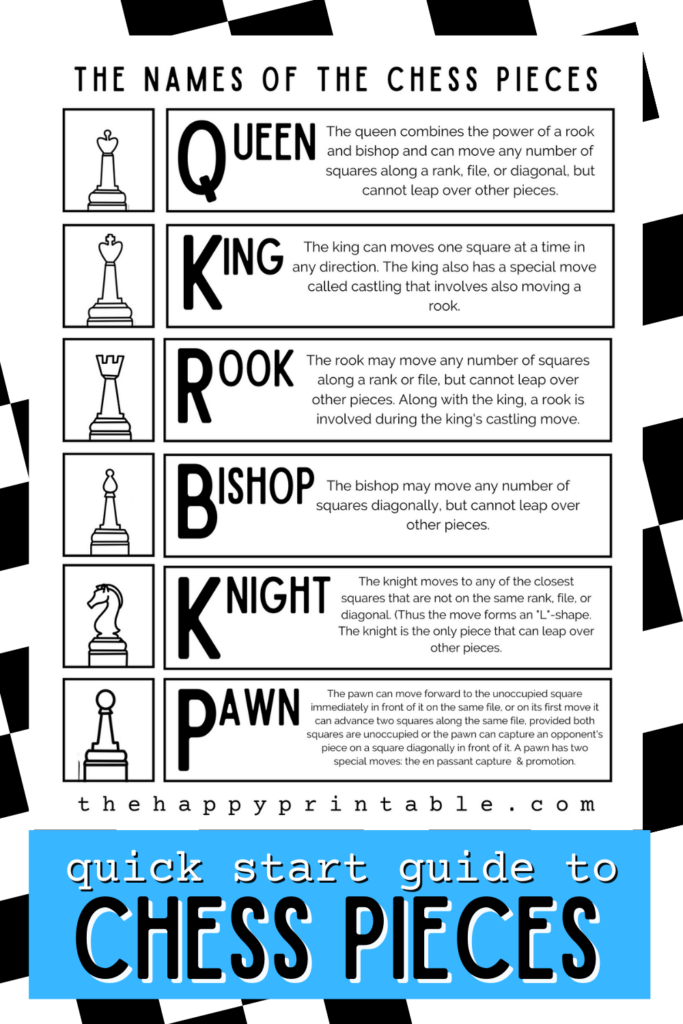 Do you want the chess board printable for your students?
Do you want a copy of this chess board printable? It's free for my Happy Printable subscribers. (Thanks for being here!)
Simply use the form below to become a subscriber. Then check your email and confirm that you really meant to subscribe. Upon confirmation you'll receive the chess board printable, the chess pieces, and the quick start guide to the names and moves of each chess pieces as a single PDF.
You'll also begin to receive my weekly newsletter. You can look forward to getting my newest creative printables delivered right to your inbox!
Are you already a Happy Printable subscriber…
First, thank you! I am so glad to have you along on this journey!
As a subscriber you can use the exact same process to get your free chess download. Using the from to subscribe is a quick and easy way to get your download. And, you won't get double the emails. I promise!
Do your kids want to learn more about playing chess?
My four kids all learned to play chess when they were young. I purchased this "Chess Teacher" set for my younger kids. Each piece is labeled with it's name and even the moves assigned to that piece. It's a great starter set when you're ready to move beyond my printable paper chess board!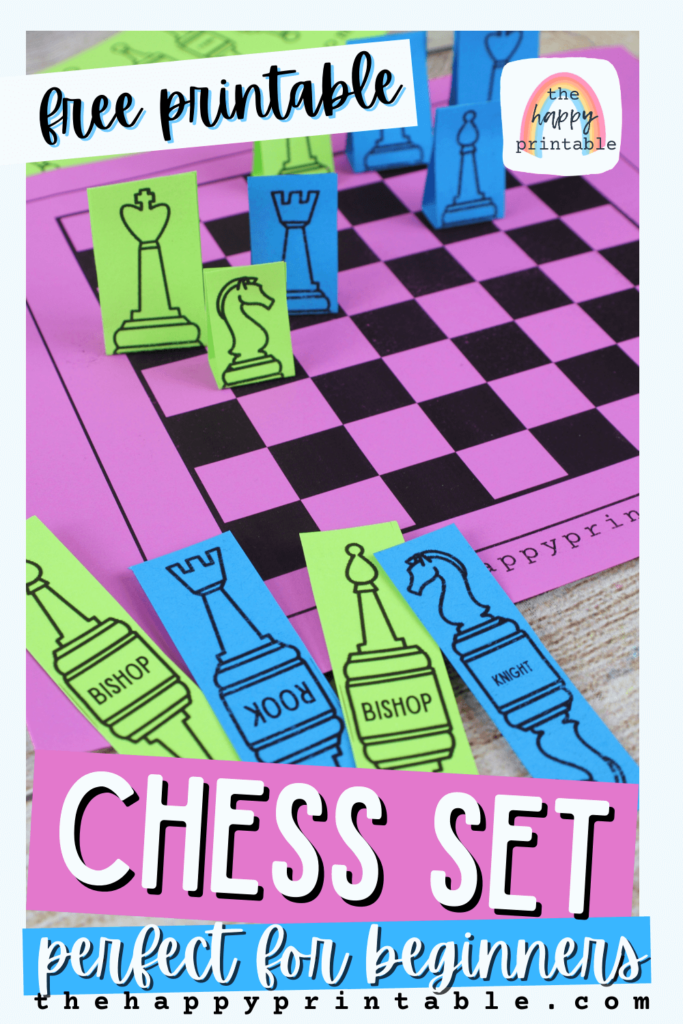 If you loved this printable chess board and printable chess pieces please share it!
Every single share helps me and I appreciate it in a BIG way!