As an Amazon Associate I may earn from qualifying purchases, at no additional cost to you.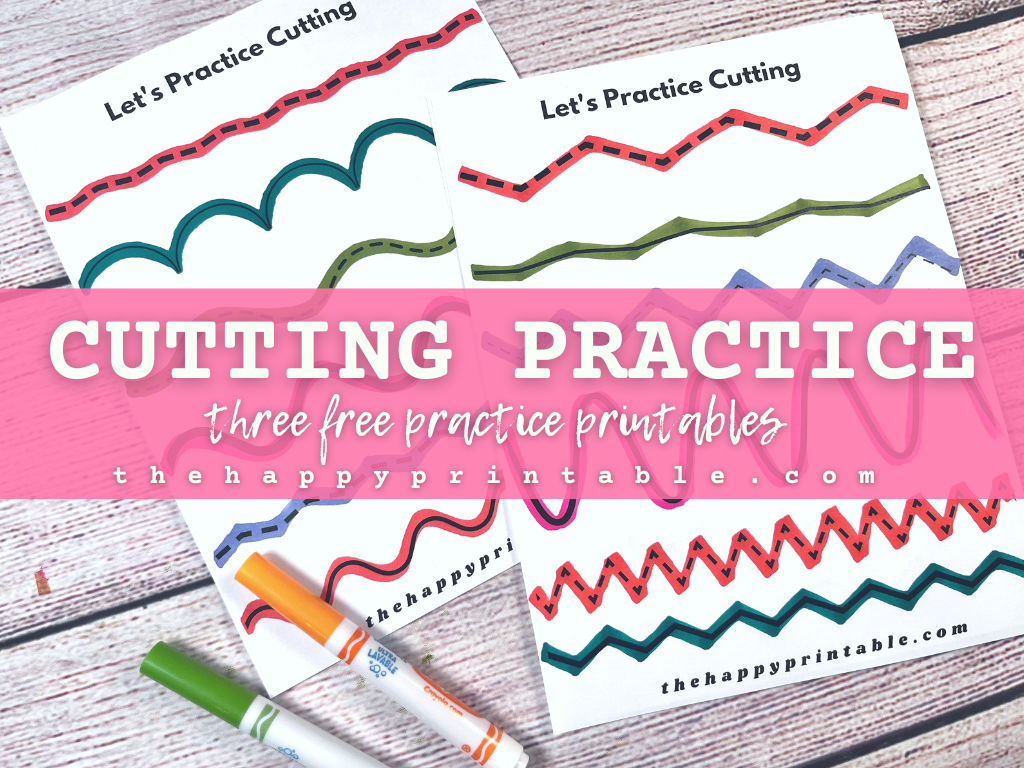 These free printable cutting practice worksheets are be a valuable tool for preschool teachers to help their students develop important scissors skills and fine motor skills that are essential for their overall development.
Why are cutting skills important for preschoolers….
Preschoolers can gain cutting skills through a combination of practice and exposure to different types of materials to cut. Activities such as cutting paper, playdough, straws, and food with child-safe scissors or knives can help preschoolers develop their cutting skills.
Cutting skills are important for several reasons. Firstly, they help to develop fine motor skills, which are essential for everyday activities such as writing, drawing, and using utensils. Secondly, cutting skills help to develop hand-eye coordination and spatial awareness. This means that preschoolers can learn how to control their hand movements and understand how objects move and relate to each other. Lastly, cutting skills can help to boost preschoolers' confidence and independence, as they learn how to complete tasks on their own.
In addition to the above benefits, cutting skills also provide opportunities for preschoolers to express their creativity and imagination. Through cutting and pasting different shapes and materials, preschoolers can create their own unique designs and develop their artistic abilities.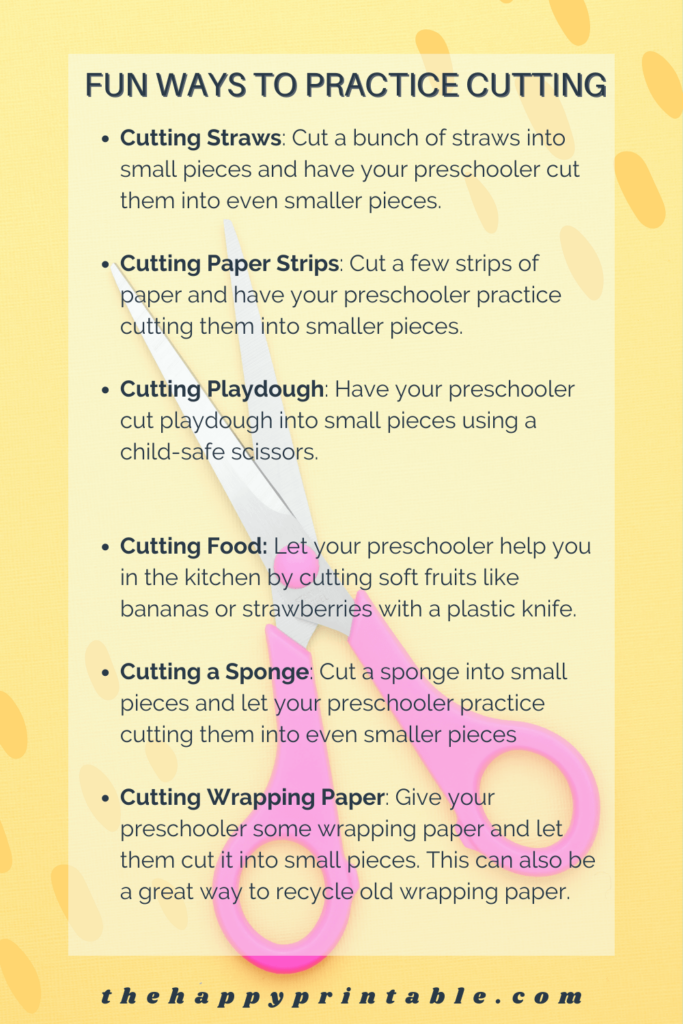 How can cutting practice worksheets be a part of gaining scissor skills….
Cutting practice worksheets can be a fun and useful addition to a preschool classroom! These worksheets provide an opportunity for preschoolers to practice their cutting skills in a structured and guided way.
With these cutting practice worksheets preschoolers can develop their fine motor skills, hand-eye coordination, and ability to follow directions. Plus, they get to express their creativity and imagination by cutting and pasting different shapes and materials.
By incorporating cutting practice worksheets into the classroom, preschool teachers can help their students develop important skills that will be useful throughout their lives, all while having fun!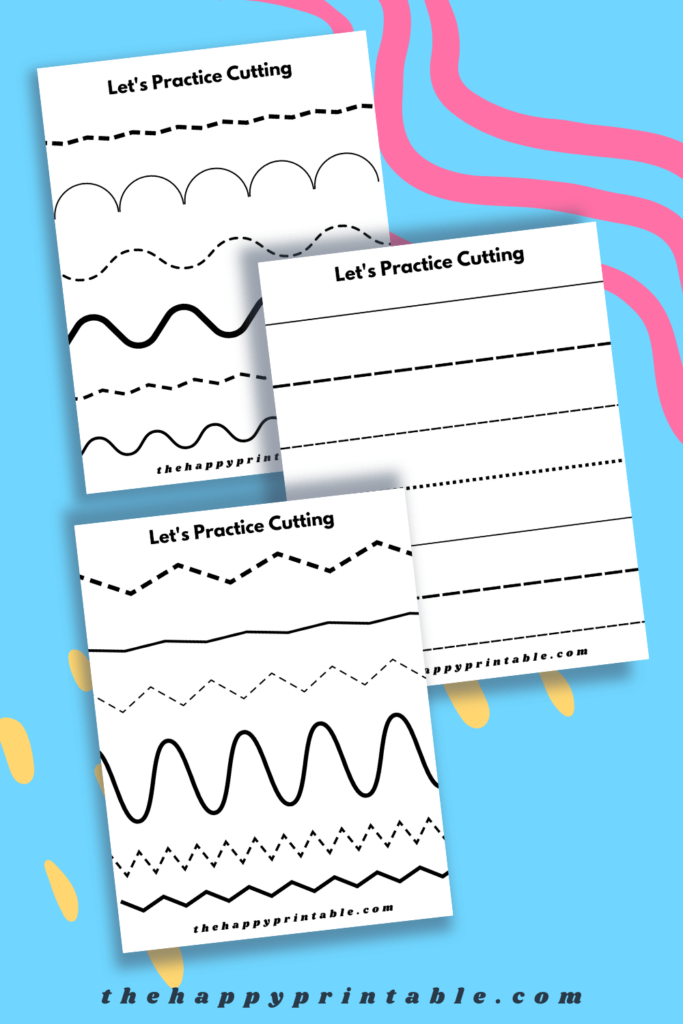 Do you want these cutting practice worksheets for your little people…
Fill out the form below to become a Happy Printable subscriber and get these preschool cutting practice worksheets for free. Confirm your subscription via email and you'll get your free download immediately.
When you are a Happy Printable subscriber you'll receive my weekly digital newsletter. I'll never send you spam, just my best new creative resources for kids!
If you're already a Happy Printable subscriber getting your cutting practice worksheets is still the same simple process.
Fill out the form above and grab your free cutting worksheet download. You'll never receive multiple emails, no matter how many downloads you receive.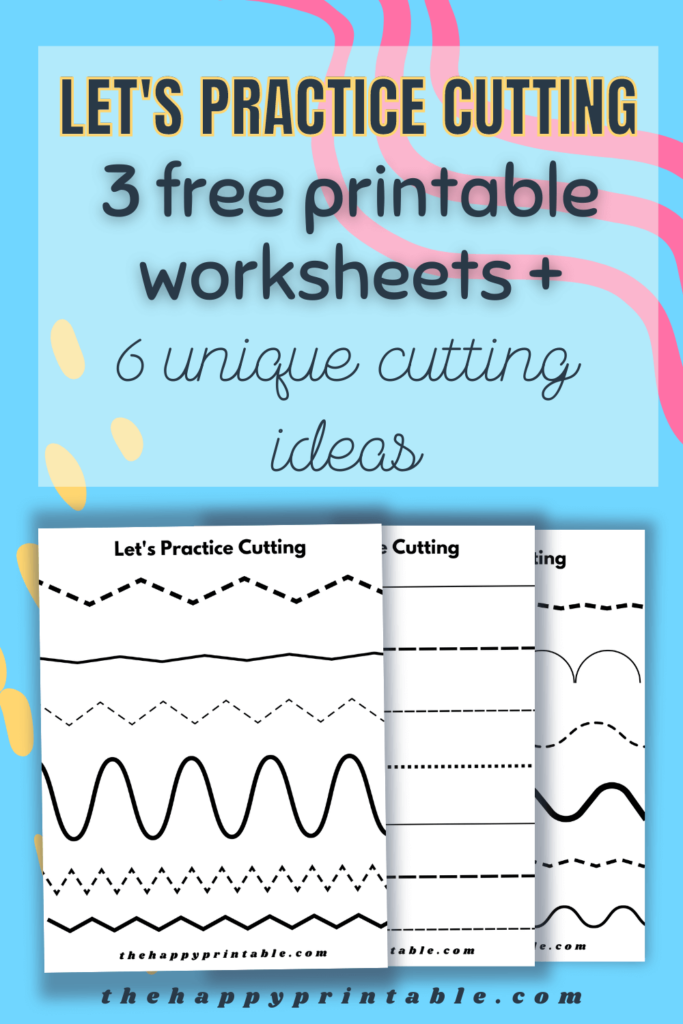 If know someone else that would love using these free cutting practice worksheets please hit share!
Every share helps me to continue bringing you more quality resources for free!