As an Amazon Associate I may earn from qualifying purchases, at no additional cost to you.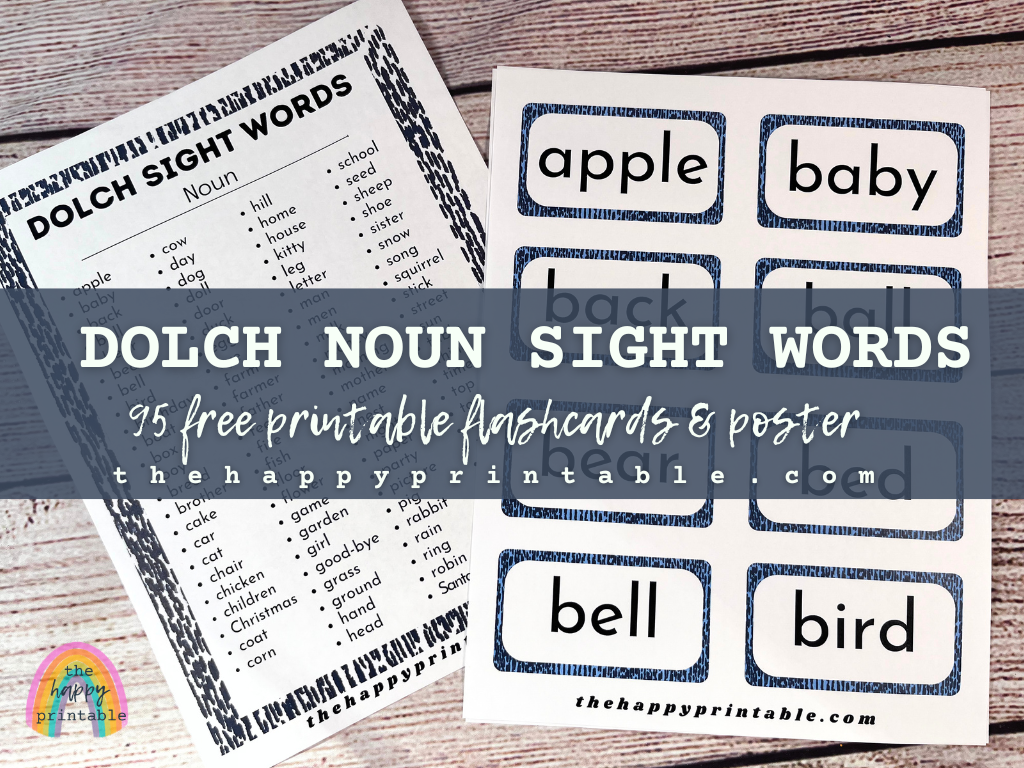 The Dolch sight words nouns list is a special set of words that are commonly used in our everyday language. Check out ninety five free printable Dolch noun sigh word flashcards and Dolch noun poster to use in your home or classroom!
What are the Dolch noun sight word list?

The Dolch noun list is a collection of common, important words that are the names of people, places, things, and animals, helping young kids recognize and understand them more easily in reading and communication.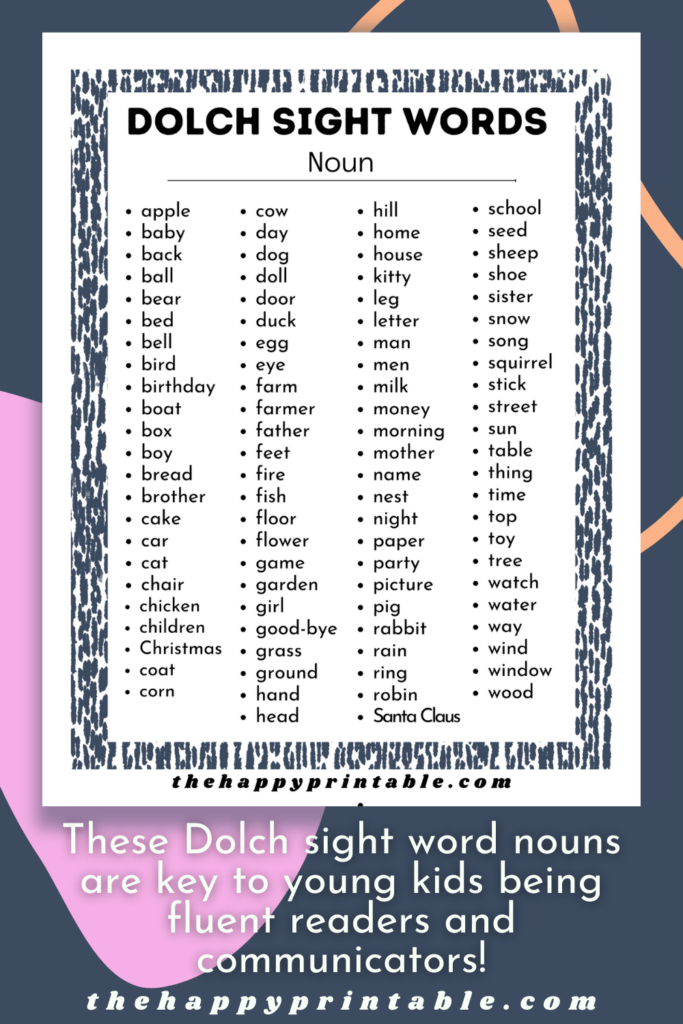 Why are the Dolch nouns so important….
These words are super important because they often pop up in stories, books, and conversations. They're like the building blocks of sentences, and knowing them by sight helps our kids become more fluent readers and confident communicators.
Nouns, in particular, are a big deal. They're the names of people, places, things, and animals that surround us. From "cat" to "house" to "friend," nouns are the key players in sentences. By introducing these Dolch sight word nouns to our kids, we give them a head start in understanding and recognizing these important words when they encounter them in their reading adventures.
Now, why do we want our little ones to learn these sight words? Well, it's all about boosting their reading skills and building their vocabulary. When kids can read these sight words effortlessly, it frees up their brainpower to focus on decoding new words and understanding the meaning of the text. It's like giving them a shortcut to reading success!
Free printable Dolch noun flashcards…
This set of free printable Dolch nouns flashcards is the perfect way to practice and reinforce your little one's recognition and understanding of common nouns, which can improve their reading skills and vocabulary development.
Practice: Use the flashcards for regular practice sessions to help children memorize and recognize Dolch noun sight words.
Review: Use the sight word flashcards for quick review sessions before or after reading activities to reinforce word recognition.
Games: Create engaging games like memory matching or "I Spy" using the Dolch noun flashcards to make learning fun and interactive.
Sorting: Sort the flashcards into categories (e.g., animals, objects, people) to help children classify and understand different types of nouns.
Sentences: Encourage children to create sentences using the flashcards to reinforce comprehension and sentence construction skills.
Writing Prompts: Select a few Dolch noun flashcards as writing prompts, asking children to incorporate the words into their own creative stories or sentences.
Vocabulary Expansion: Use the flashcards as a starting point to introduce related words or synonyms, expanding children's vocabulary beyond the Dolch noun list.
Partner Activities: Engage children in partner or small group activities where they take turns showing and identifying flashcards, promoting collaboration and peer learning.
Assessment: Assess children's progress by using the flashcards as a tool for word recognition quizzes or informal assessments.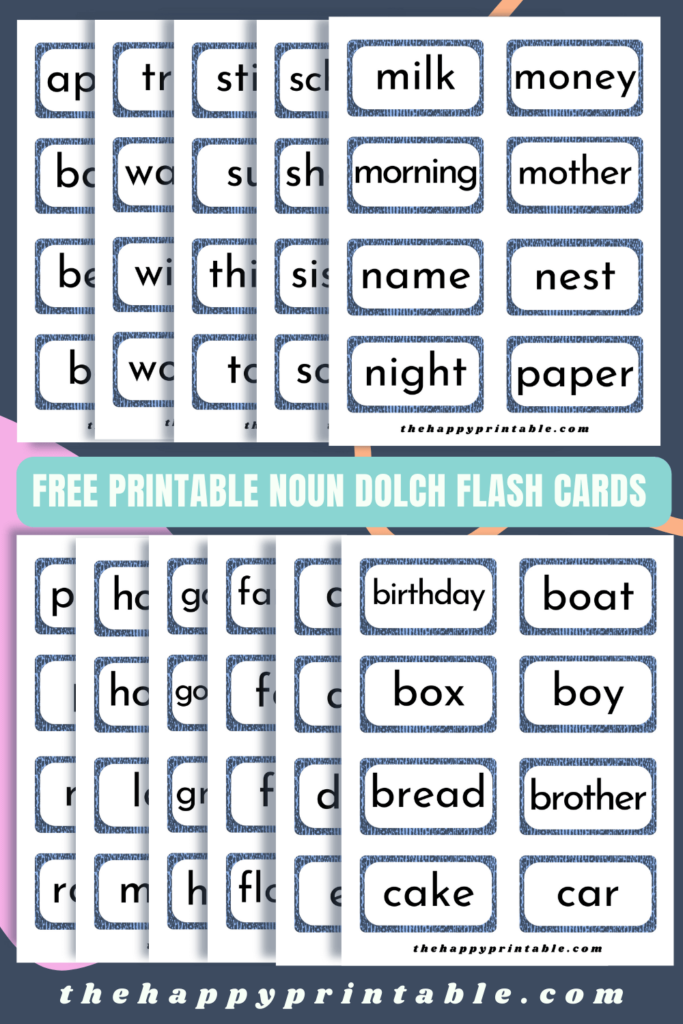 Do you want to get this set of free printable Dolch noun flashcards….
You can get this set of printable Dolch noun flashcards for free when you're a Happy Printable subscriber. Just use the form below to sign up and then head to your email inbox. As soon as you've confirmed your email you'll receive your printable Dolch noun flashcards.
As a subscriber you'll also receive my weekly digital news letter. I'll never send anything but my best original printables that I make just for you!
If you're already a subscriber you can still use the same form and process to get this list of Dolch noun flashcards.
Do you want to see even more Dolch sight word flashcards….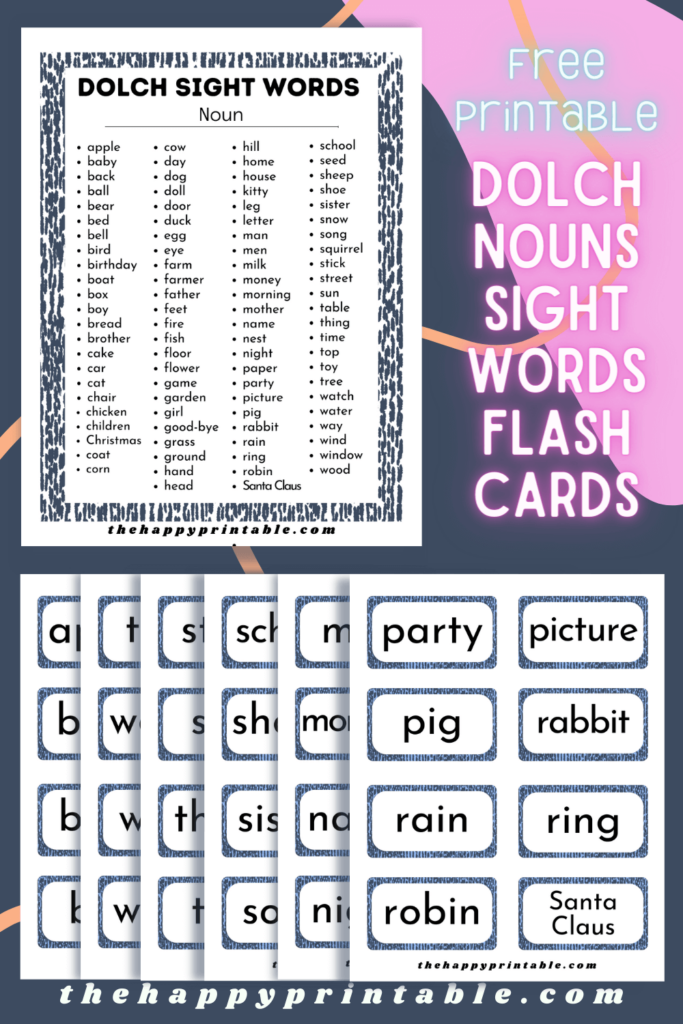 If you liked the sight word flashcards share this post!
When you hit share you help to keep bringing you more and more free printables!