As an Amazon Associate I may earn from qualifying purchases, at no additional cost to you.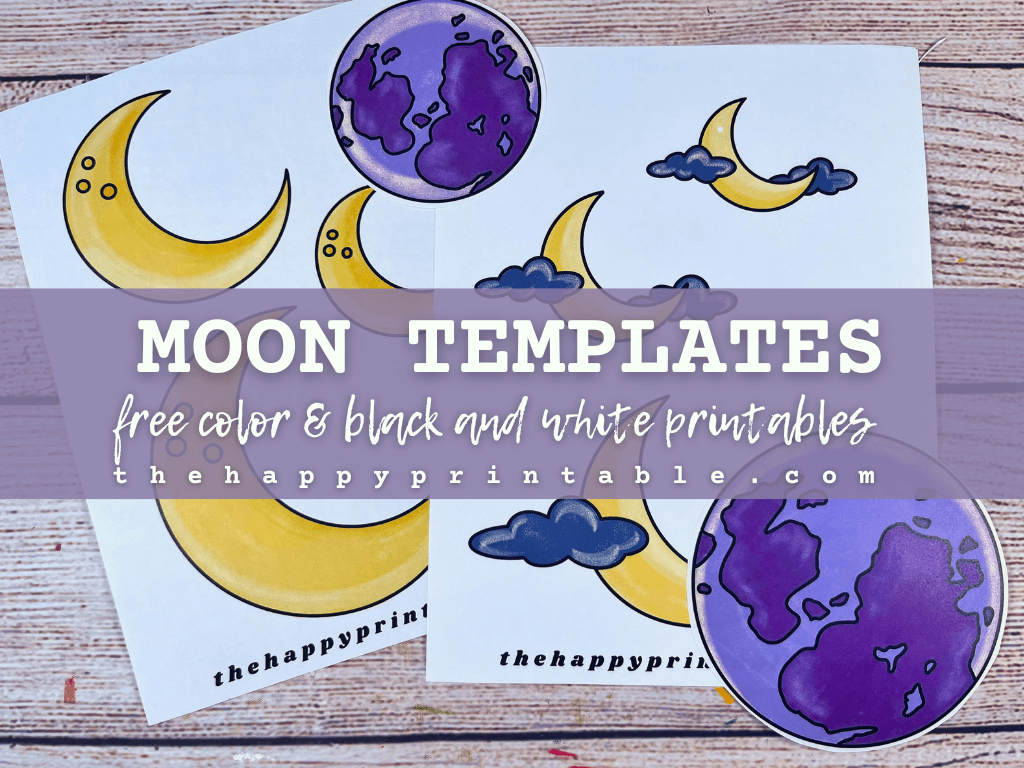 Check out this set of printable moon templates that will captivate your child's imagination! These delightful hand-drawn moon templates offer an array of creative possibilities for both playtime and educational activities.
Full color and black and white moon templates…
This collection features not just one, but three different moons, each with its own unique charm and personality.
What makes this moon template set truly special is the flexibility it offers. Each moon is available in three different sizes. Whether they prefer a larger moon for coloring and decorating their room or a smaller one for creating a whimsical moon-themed collage, these templates have got it covered.
Both full-color and black-and-white versions of each moon template are provided. This way, your child can explore their creative prowess by bringing the moon to life in a palette of their choosing or use the full color, ready to go version!
Whether you're a busy mom looking for a fun, screen-free activity to bond with your child or a dedicated teacher seeking an interactive way to introduce astronomy in the classroom, these printable moon templates are the perfect resource. They encourage hands-on learning, inspire imaginative play, and nurture a sense of awe for the world beyond our own.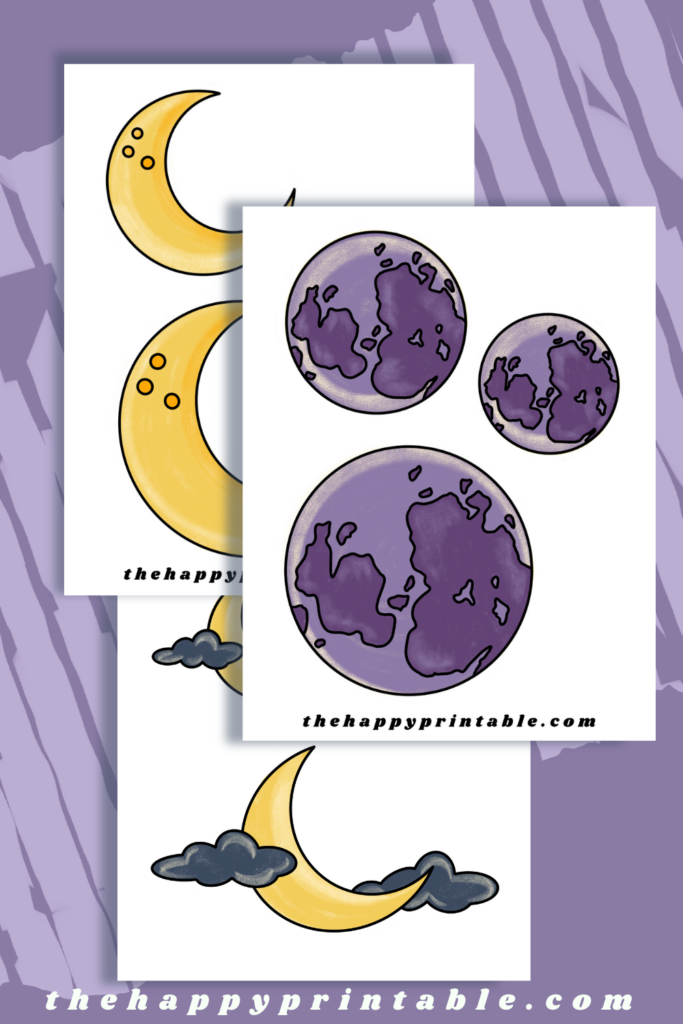 Ideas for using these printable moon templates….
Here are five simple ways you can utilize these printable moon templates:
Artistic Adventures: Encourage your child to color, paint, or decorate the moon templates using their favorite art supplies. This activity promotes creativity, fine motor skills, and allows them to express their unique imagination.
Moon Mobile: Cut out the moon templates and string them together to create a delightful moon mobile. Hang it in your child's room or classroom, and let them marvel at the celestial display as the moons gently sway.
Astronomy Lessons: Use the moon templates as visual aids during astronomy lessons. Teach your child about the different phases of the moon by having them arrange the templates in the correct order, enhancing their understanding of lunar cycles.
Shadow Play: Place the moon templates near a light source and observe the fascinating interplay of shadows. Your child can experiment with different angles and positions, learning about the moon's changing appearance and the concept of light and shadow.
Storytelling and Dramatic Play: Encourage your child to create imaginative stories and adventures featuring the moon templates. They can use the moons as props for storytelling, puppetry, or even create a mini theater production, bringing their narratives to life.
Remember, these ideas are just the tip of the iceberg. Feel free to adapt and expand upon them to suit your child's interests and learning goals. Let these printable moon templates be a launchpad for endless exploration and discovery, igniting your child's curiosity about the vast universe that surrounds us.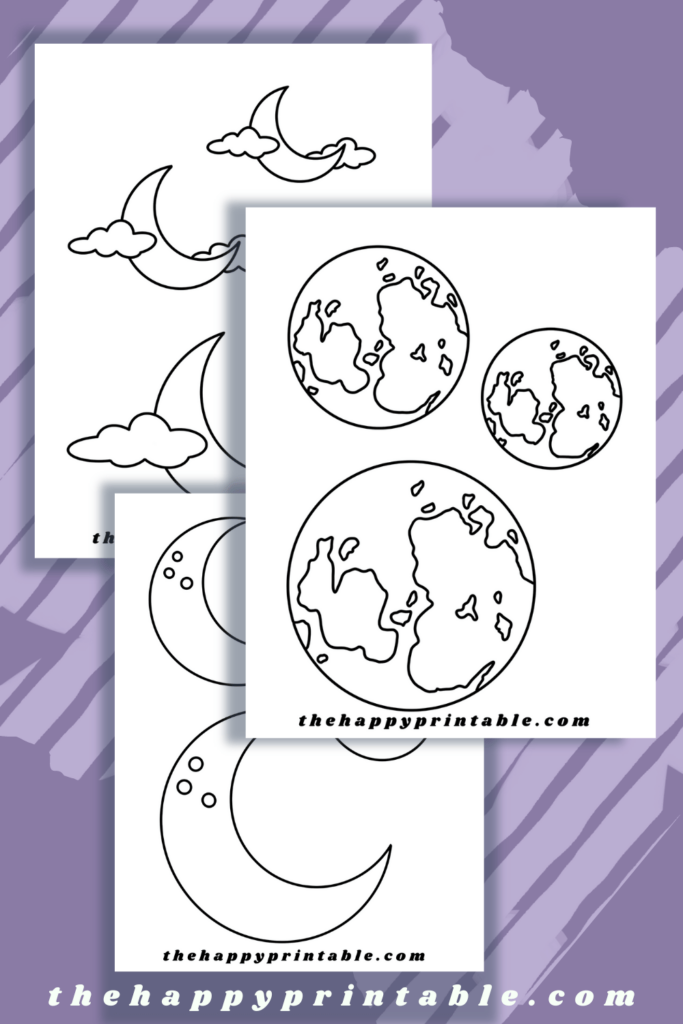 Get six pages of pages of free printable moon templates….
If you want to use these moon templates to use in your home or classroom you can do so for FREE when you're a Happy Printable subscriber. Sign up using the form below. Then head to your email to confirm your subscription. As soon as you've done that you'll get your download immediately.
As a Happy Printable subscriber you'll receive my digital newsletter. It's always full of my best new ideas, printable as always!
If you're already a Happy Printable subscriber you can use the same form, same process, and have you download in seconds!
More solar printables….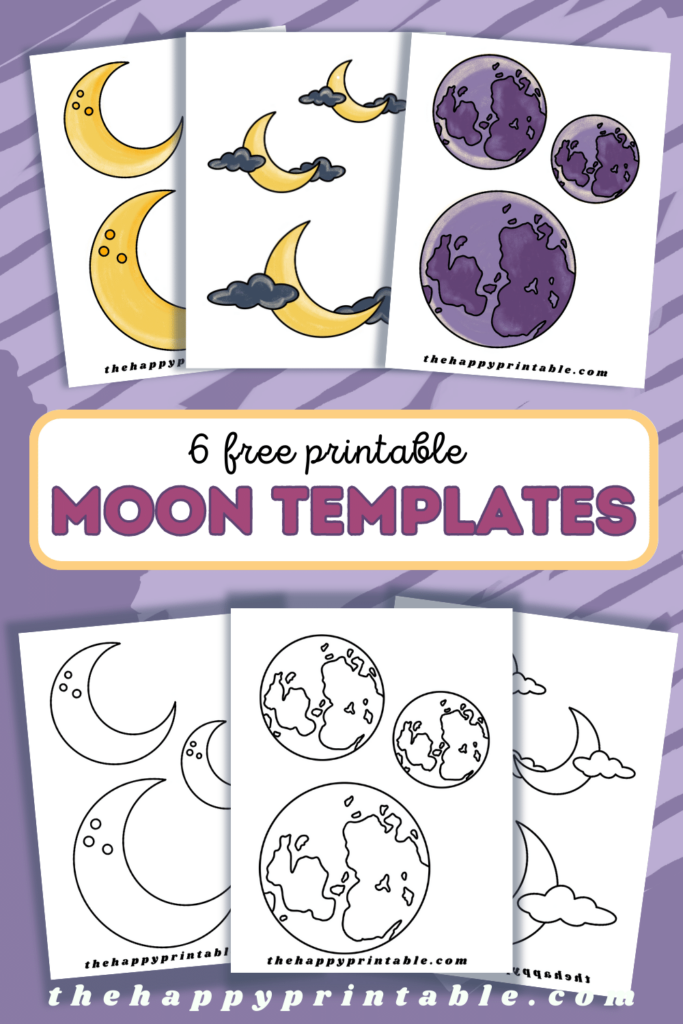 As always, if you love my free printables hit "SHARE!"
Sharing is a HUGE help to me ad alllows me to devote my time to creating more and more printable resources for you!